---
Motorcycling across the Himalaya
- some do's, a few dont's and a hint
---
Every year countless gangs on mobikes go tearing through the Himalaya, the Zanskar and sometimes touching the Trans Himalaya, without being any wiser about the giant mountain systems they pierce through on roads that have been built with so much sacrifice and labour.
They create records like Delhi to Khardung La and back in 82 hours! With digital cameras having made photography easy for morons even, beautiful photographs are immediately put on countless web sites. Continuing the fetish for publicity larger and larger groups go 'raiding'(an obnoxious disrespectful term) the Himalaya. Every year a TV documentary or two also crops up. All have this in common- many interviews exaggerating the difficulties met and very little of the magnificent views of the mountains, lakes and passes.
On the 1st of August (?) I saw a TV programme on News X of some motoryclists talking of the "incredible" feats that they had done. One of them speaking to the camera from Kunzum la was saying that the roads were rough and sometimes there were no roads!! This statement was simply wrong. This is a 34 years old road where there is a daily bus service for more than two decades. There is no need to pad stories with such exaggerations. This happens only when little knowledge of the mountains is inversely proportionate to one's ego. With these rushing in and out they miss out on many stunning topographical features.
I list a few only so that they can be noticed by some interested 'marauders' later on.
At Rhotang Pass the Pir Panjal range, that rises from Domel near Muzaffrabad in Pakistan Kashmir, is crossed. As soon as that is done one sees the spectacular collection of a myriad Himalayan peaks known collectively as the Chandra Bhagas and Mulkilas and a few more like the Gepang Goh. The mostly tarred road goes around them from –using an aviator's lingo- from 6 O'Clock till 1 O'Clock.
Around Kalpa, Phuti Runi (it is a centuries old word meaning Split in the Great Rock, which is precisely the point where the Himalaya are pierced!) - which is by the Chandra River near Baltal below Kunzum La and much before Gramphoo, Baralacha la, and Zoji la is the Great Himlayan Crest crossed.
The Srinagar – Leh road has a few diversions to the north that lead to magnificence that wrench one's heart.
Near Minimarg comes in a beautiful road from Kishenganga valley. From Kargil a road goes to the troublesome border village of Batalik, on the India-Pakistan Line of Control (LOC) and then turns east along the Indus to Khaltse.
After the striking gompa of Mulbek and before Bod Kharbu a good road branches off to Achinathang, with a dramatically placed gompa, on the Indus.
On the breath taking Kargil – Padam route the good road after Parkachik goes round the Nun Kun massif from 6 O'Clock to 2 O'Clock till Pense La, after which it follows the long Durung Drung glacier for about 3 kms.
The Ladakh Range or Kailash Range, which starts at Kiris village in Pakistan where the Shyok meets the Indus and ends 15 kms after Mt. Kailash in Tibet, crosses the Indus in Ladakh at what is now known as Loma Bend. The bridge here is at the confluence of the Hanle with the Indus, which becomes an important river from this point.
If one follows the right bank road of the Indus to Tsaka village, past the Yak farm, and then to Tchaga La and Chushul one is technically in the Trans Himalaya.
At Miarsmik La (beyond Phobrang in the north of Pangong Tso)to Pamzal on the Changchenmo river is the Trans Himalaya crossed.
Across the Khardung La in Ladakh Range is Panamik on the Nubra river. Just before this village is a soda ash plain called Pulthang. From it juts out a grey black jumble of rocks about a km long and half as wide. Climb to the top and there is a volcanic crater with a small lake in it. The lake is called Lobame tso. Below and beyond can be seen the Nubra in its wide bed.
The second range of mountains above the eastern shores of the Pangong Tso are now, since 1962, unfortunately with China. Ani la, which is where the Line of Actual Control (LAC) is now, can be seen from all along the western shore of the beautiful lake.
After crossing Chang la towards Tankse, and before Durbug, can be seen the modest beginning of the awesome Karakoram Range. For a closer look branch off from Durbug to Shyok village above the BIG V turn of the Shyok river. From within this V starts the famous Karakoram Range which has 6 of the fourteen 8 thousand metres high peaks in the world.
At Tankse, near the Government Primary School, are two huge laminatdd boulders with Petroglyphs or rock engravings from BC and the 9th and 10th centuries. They are in hieroglyphics, Persian and Cyriac.
From Man, Merak and Kakstet villages can be seen the strange helmet shaped island of Tabo Topo on the eastern shore. The 150 kms long Pangong Range, which starts at Agham on the Shyok before Khalsar in Nubra Valley, ends about 30 kms after the Pangong Tso turns east towards Khurnak Fort soon after Kakstet village. The International Boundary between India and China once was at Khurnak Fort.
The LAC is east of and very close to the Chushul road. After Kakstet as the road turns towards Chushul, not only is the Pangong Range crossed, but Srijap on the East bank of P Tso and Yula directly south but on the west bank, are close by. They are now with China, but in October 1962, when they were snatched from India, were witness to scenes of heroic unequal battles fought between ill clad and inadequately armed Indian soldiers with the vastly superior equipped Chinese hordes.
This kind of knowledge can be gleaned only if one tarries to talk to people along the way, and not rush about with chests puffed and mouths stuffed. Take weeks off instead of days and revel in the beauty that you have had the good fortune to see.
Over the years I have talked to many such hurrying motorcyclists and was shocked to find how uniformly ignorant they were about the mountains and valleys they rush through. Infact, they were not even conscious of their ignorance.
And, if they think that these routes are difficult now, consider what they were in the 1970s when my friend Adil Tyabji and I traversed them by motorcycles many times, and in the 80s when my friend Bill Aitken did it all alone repeatedly. I have added photographs from that age. In Ocotber 1977 when we crossed Kunzum La, which only had a mile stone, the road after Kaza to Lossar was still being filled in and Khardung La is unrecognisable. In those days after we left Srinagar or Manali or Shimla we could not even get a clutch wire!
Few motorcyclists these days approach mountains with awe and humility like trekkers and climbers still do. They zip zip and click click, and rush back. Read about the mountians you are going into. Perhaps Kenneth Mason's "Abode of Snow" will be good to start with. And, trek from some of the beautiful and magnificent spots you motorcyclists pass by. They go past legendary beauty and great savagery; tall firs, plunging cataracts and turfed gorges, and yet do not stand and stare!
So don't brag. Many have walked where you have had the good fortune to drive these days. And even that is being done from 35 years ago. I have done both ages ago. Walked, climbed and motorcycled.
Thanks for stopping by.
Comments to: rbhatto@yahoo.co.in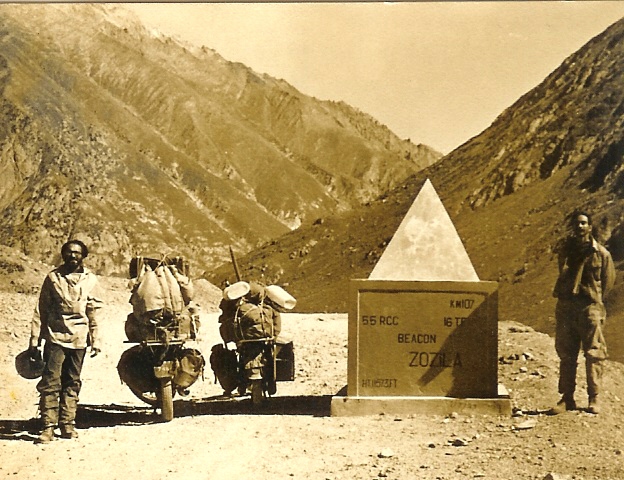 Motrcyles at Zoji La 34 years ago
Motorcycles crossing the glacier beyond Khardung La 33 years ago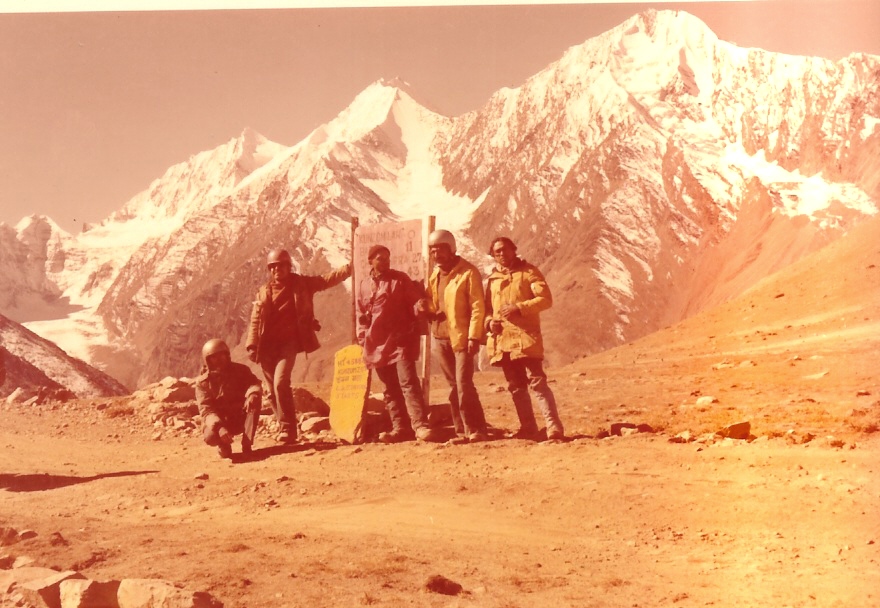 On Kunzum La 32 years ago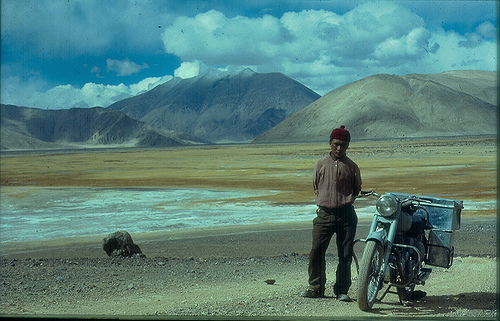 At Dingrungtse, where there was once an Indian Air Force air strip. Gone now after 1962. Beyond is Spanggur Gap which has been with china since 1962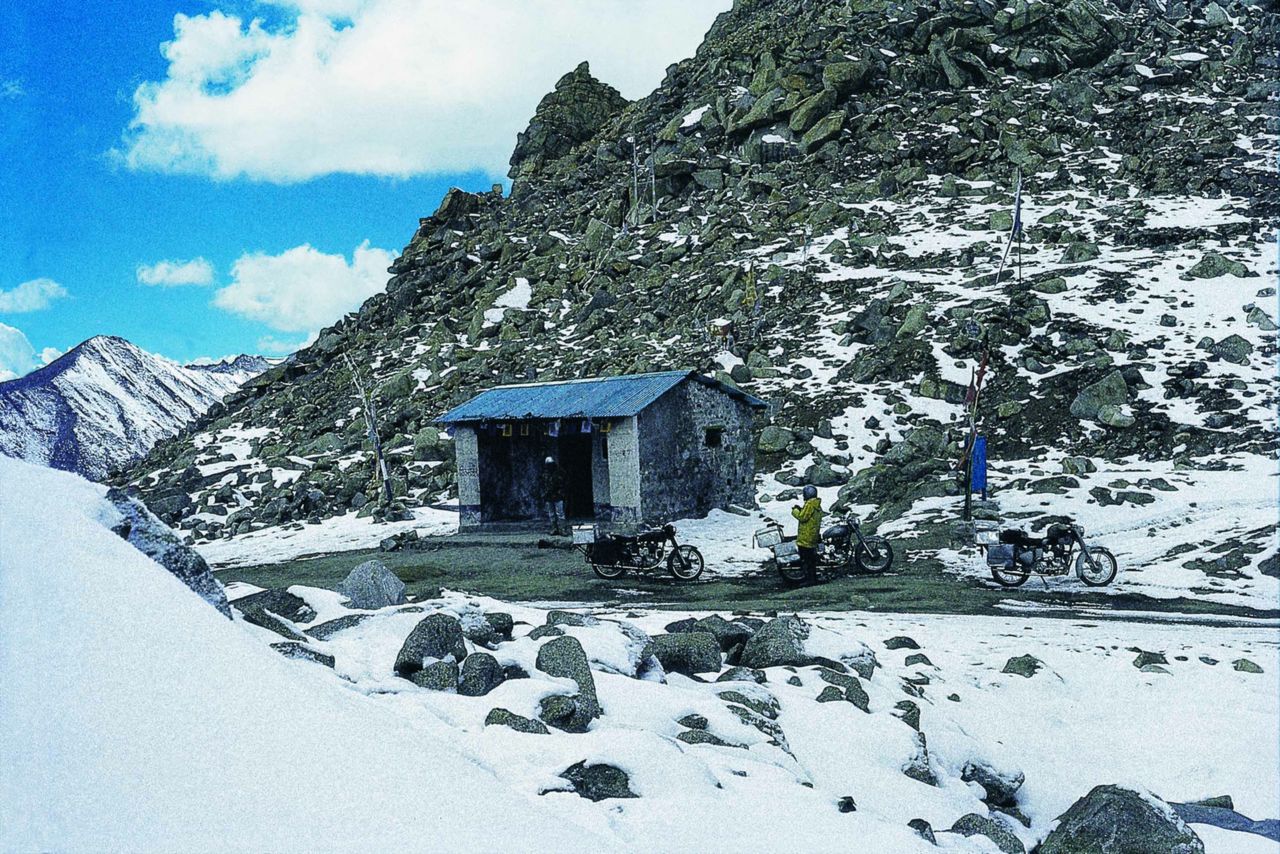 Khardung la 34 years ago. Observe how simple and clean it is. Not filthy and crowded like today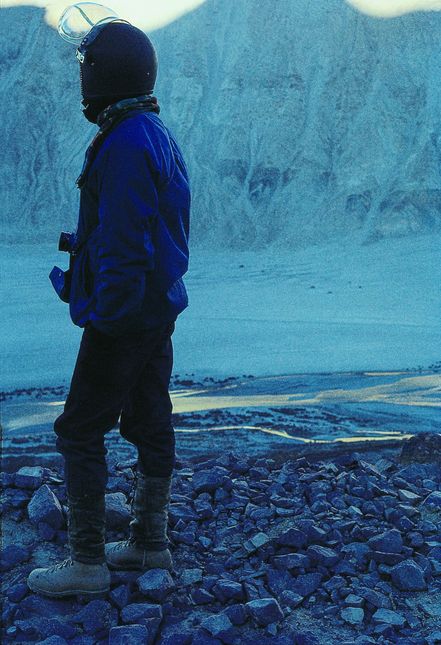 A friend- VK Puri- on that trip above the Shyok on an October evening. In 1975 the road in Nubra was still being drawn
Romesh Bhattacharji New Delhi 7th of August, 2009
---
Created on ... August 12, 2009